COVID19 Information for Parents & Carers
At Totley All Saints, our number one priority has, & always will be, the safety & wellbeing of our pupils and staff.
Throughout the pandemic, we have worked hard alongside the other members of our Trust (The Diocese of Sheffield Academies Trust) as well as within our partnership with Sheffield Local Authority, to ensure that everyone is kept safe & well through full compliance with all Government guidance. Our risk assessment is continually monitored & updated for its effectiveness & has been quality assured both within the Trust & through the Sheffield LA Health & Safety Department. As a result, we & you, can have every confidence in our preparations, systems, policies & procedures.
As a school, we are incredibly proud of how our school family & wider community has adapted & embraced change. We are proud that while things may be different, our TASS spirit is stronger than ever!
What to do if anyone in your family shows symptoms of Coronavirus:  
We would ask that all parents / carers look out for the following symptoms of Coronavirus amongst their families:
A high temperature– feeling hot to the touch on the chest or back (you do not always need to measure your temperature to be able to tell);
A new, continuous cough– this means coughing for a lot more than an hour, or 3 or more coughing episodes in 24 hours;
A loss or change to your sense of smell or taste– where you cannot smell or taste anything, or things smell or taste different to normal.
For further information click on this link (NHS Coronavirus Symptoms).
Please click to download NHS Poster of Covid19 Symptoms.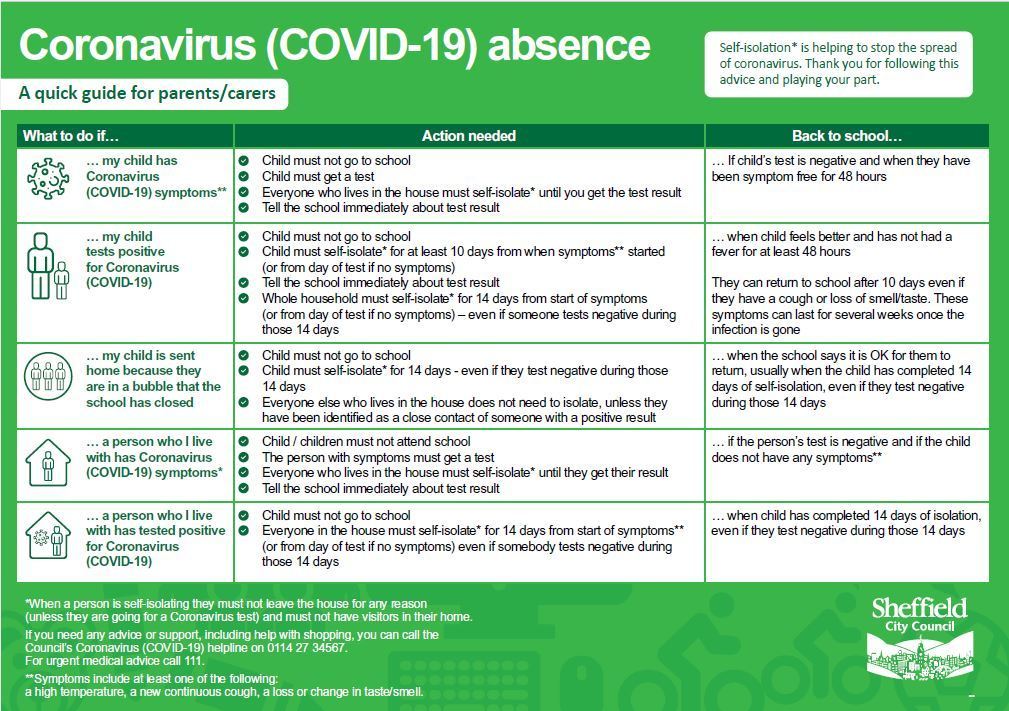 If you think that your child or someone in your family may have coronavirus, then please do not bring your child / children into school as this may spread the disease to others.
If this is the case, then please call us to let us know ASAP on 0114 236 1934.
You will need to book a test (Book a Coronavirus Test).
You & your family must stay a home & not have visitors until you get your test result back.
If there is a confirmed case of Covid19 in your family, then please give us another call to let us know immediately on 0114 236 1934 & do not return your child to school. 
For more information, please click on the link for the Pupil-Isolation-Leaflet produced by Sheffield LA.
Should you like any further information about how we are keeping children safe in school during this time, please let us know.
Home Learning Provision if your child cannot attend school:  
Please click to access information on our home learning provision in the event that your child cannot attend school in the following circumstances:
A whole school closure (all children apart from those classified as vulnerable & Key Worker children in the event of a full lockdown)
A class bubble closure (due to a confirmed case of Covid19 in your child's class or social bubble)
A child / children in your family are required to self-isolate due to being in contact with someone who has a confirmed case of Covid19.
Some useful help and links for parents and children during the Covid-19 outbreak:
Our own page with further helps during the pandemic.
CAHMS resource pack for parents
CAHMS – It's OK to worry about coronavirus
A free information book explaining the coronavirus to children, illustrated by Gruffalo illustrator Axel Scheffler – this free book was released on 27th April 2020
Emotional wellbeing daily check in
Mindful Minute breathing breaks
Families at home – support and advice
Healthy Minds – beat the boredom guidance
Healthy Minds – beat the boredom planner
Coronavirus – a guide for parents/carers of children with SEND
A guide to supporting the mental health and wellbeing of pupils and students during periods of disruption – a guide from the Anna Freud Centre.  The Anna Freud Centre has also developed videos for parents and children and young people which you may find useful.
WHO Leaflet – helping children cope with stress during the  Covid-19 outbreak
Healthy Minds leaflet – some advice for parents
Autism Team Newsletter – March 2020
NHS website – Coronavirus resources for children and families
Save the Children – resource pack
Jan 13, 2021 | Category:
News
| Comments: none
---
---
---